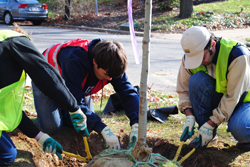 November 17th marks the sixth planting event in the Casey Trees-Crestwood partnership, which intends to renew the tree canopy in the Crestwood neighborhood by 2020. Crestwood is bordered by Rock Creek Park on three sides and is home to many of the canopy and understory trees that are Park natives. By partnering with with Casey Trees community members hope to enhance the connection to the Park, replace canopy trees that have died or been destroyed, and enhance the environmental quality of the neighborhood. Volunteers will work with committed Crestwood residents to add 30 shade trees to this community.
Getting There
The Metrobus stop is 16th Street NW & Upshur Street NW (S1, S2, S4). There is no direct Metrorail access. Street parking is available but may be limited.
Requirements
All volunteers must sign a completed volunteer waiver form on the day of the event before participating. Children under 18 years of age must have their parent or legal guardian sign their waiver and be supervised by an adult at all times. We will ask you for personal, emergency contact, and health information during the registration process.
No specific skills required. Each event starts with a tool safety and planting demonstration. Volunteers plant alongside experienced Citizen Foresters and staff.
Register in advance. Space is limited. If your plans change prior to the event, please update your registration status so we are sure to have the necessary number of volunteers.
Arrive on time. Check-in opens a half hour prior to the indicated start time and volunteers must be present for the tool safety demonstration at the start of the event.
Dress comfortably and appropriately for the weather. Closed toe shoes are required.
Meals
Volunteers are welcomed in the morning with hot coffee, tea, water and bagels. A celebratory lunch is provided at the conclusion of the event. Please note your dietary preferences and/or allergies when registering so we can attempt to accommodate your needs.
Group Registration
Are you a volunteer group manager? Do you want to register a large group of volunteers for one or more events (5 or more individuals)? Groups cannot sign up all of their registrants on this page, but we are happy to work with you to get volunteers registered at this event or other events this season. Register online now.
Support Casey Trees
Help re-tree the Crestwood neighborhood by making a donation today. Gifts of any amount make a world of difference in making our streets and communities safer, healthier and – of course – greener.