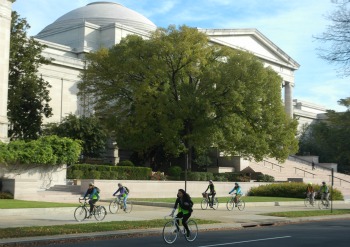 Jump start the fall season with Casey Trees' first ever Treeathlon, a Washington, D.C. tree tour conducted via bicycle, on foot and by kayak or canoe!
We'll meet with our bikes at the Olmsted Summerhouse, a brick grotto on the northwest grounds of the U.S. Capitol, at 9:00 on Sunday, September 22nd, the first day of fall. We'll then bike through the grounds and along the National Mall toward the Lincoln Memorial, stopping and walking to admire and learn about many of the historic and botanically noteworthy trees along the route. We'll arrive at Key Bridge Boathouse on the Georgetown riverfront around noon, where we'll enjoy a box lunch overlooking the Potomac River.
We'll then hop into kayaks and canoes for a tree-viewing paddle around Theodore Roosevelt Island (to complete our athletic trio of events!).
The ticket for this event includes a boxed lunch and canoe or kayak rental. No refunds will be provided. However, since space is limited please let us know if you're unable to make it and your reservation will be opened for someone else and your registration fee will be processed as a donation.
Getting There
The meeting location at Olmsted's Summerhouse on the U.S. Capitol grounds (the closest intersection is listed as the street address above). The closest Metrorail station is Union Station (Red Line) which is a 10 minute walk from the Summerhouse. The Federal Center and Capitol South Metrorail stations (Orange & Blue Lines) are both a 15 minute walk from the Summerhouse. The closest Metrobus stops are along Constitution Avenue NW (served by the 96) or along Independence Avenue SW (served by the 34). There is a Capital Bikeshare station located at Union Station where you can rent a bike.
Instructors
Melanie Choukas-Bradley, author of City of Trees
Stephanie Juchs, Community Education Coordinator, Casey Trees
Who Should Attend?
The Treeathlon is accessible to anyone who is moderately fit and knows how to ride a bike. Brief paddling instruction will be provided for those with little or no paddling experience.
Come Prepared
This event will take place rain or shine barring severe weather so please wear appropriate clothing. For predicted severe inclement weather participants will be notified 24 hours in advance if the Treeathlon is being rescheduled for its rain date on Sunday, September 29th. We recommend participants bring water and a snack, a boxed lunch will be provided. Please bring a bike lock to secure your bike during the paddling portion of the tour.
Site Information
The biking portion of the Treeathlon covers a distance of about 5 miles with frequent breaks for noteworthy trees along our route. The paddle will cover a moderate distance from Key Bridge boathouse around Roosevelt Island. There are no restrooms during the Treeathlon until we reach Key Bridge Boathouse.
Advanced registration for this event was offered exclusively to Casey Trees donors. To receive benefits like priority registration, complimentary tickets and special event invitations, consider becoming a Casey Trees supporter by making a donation today.