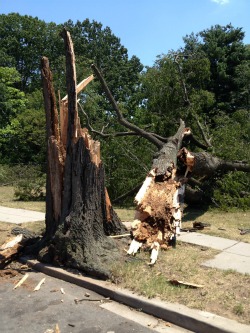 Learn the basics of tree decay and how it can create hazardous conditions in the urban environment. Experts in the field of urban forestry will bring in samples of hazardous trees and provide case studies to spur a discussion on tree risk. Current standards for tree risk assessments and best management practices will be covered and participants will learn how to prepare for and deal with events, such as a derecho or hurricane, that have the ability to cause widespread tree damage. Come prepared with questions for our instructors and ready to learn about you can contribute to a healthier and safer urban canopy.
Getting There
The Metrorail station is Brookland-CUA (Red Line) which is a 10 minute walk. The Metrobus stop is near the intersection of 12th and Irving Street NE (served by the H8) or the Brookland-CUA Metro station (served by the H2, H4, H6, G8, R4 and 80). At our office, there is ample street parking and we accomodate bicycles on-site.
Instructors
Keith Cline, USDA Forest Service
Ed Milhous, TreesPlease
Who Should Attend?
Open to the general public for anyone interested in learning about trees as hazards and how to prepare for events that can cause tree damage.
Meals
All attendees will be provided with a light dinner. Please note your dietary preferences and/or allergies when registering so we can attempt to accommodate your needs.
Continuing Education Credits
ISA Continuing Education Credits pending.