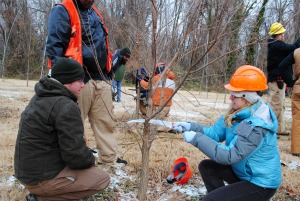 Barry Stahl is responsible for growing and nurturing the stock of American elms that the National Park Service plants on its lands, including the National Mall. Starting indoors Barry will provide instruction on the fundamentals of tree pruning and the methods that encourage healthy structural development. Then participants will head to the field, putting these principles into action by pruning American elms at different stages of development. This will involve the use of manual tools ranging from hand pruners to pole saws.
Getting There
From DC head south on the George Washington Memorial Parkway/Hwy 400. Approximately 0.3 miles beyond Reagan National Airport, turn left across the Parkway and the Mt Vernon Trail onto Marina Drive. Bear right then turn right, away from the marina, and continue beyond the DO NOT ENTER signs to the nursery facility. Cyclists are encouraged to come on their two-wheelers as the Mount Vernon Trail provides easy access.
Instructors
Barry Stahl, Horticulturist/Nursery Manager, National Park Service
Who Should Attend?
Open to the general public for anyone interested in learning how to prune young trees using hand tools.
Requirements
All volunteers must sign a completed volunteer waiver form on the day of the event before participating. We will ask you for personal, emergency contact, and health information during the registration process.
No specific skills required. Each event starts with a tool safety demonstration followed by pruning instruction.
This event will take place rain, snow, or shine barring severe weather so please dress comfortably and appropriately for the weather and wear closed toed shoes. Participants will start the day indoors for an hour of classroom instruction before heading outside for the hands-on portion of the training.
Meals
All attendees will be provided with a light breakfast. Please note your dietary preferences and/or allergies when registering so we can attempt to accommodate your needs.
Continuing Education Credits
ISA Continuing Education Credits pending.